"Whoever receives one such child in my name receives me, and whoever receives me, receives not me but him who sent me." (Mark 9:37)
SCRIPTURE READINGS
HYMNS FOR THE WEEK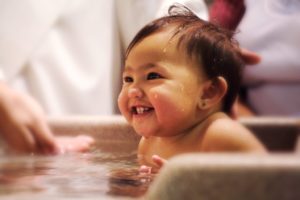 the seventh Sunday in Martyrs' Tide
Sermon Starter
Why are you praying for strength when you ought to be praying for weakness?
Are you still caught up in the way the world looks at things that you would seek the opposite of what God thinks you ought to have? Do you so easily go through the motions of the liturgy that you don't take time to meditate on what each part is saying to you, the faith that you are confessing, what it means for you?
In the Collect for this Sunday we pray: "O God, whose strength is made perfect in weakness, grant us humility and childlike faith that we may please You in both will and deed."
I have prayed for strength many times. I desire it often. Especially in times of need. Especially when I'm weak. It's natural, isn't it? Maybe that's the problem. We're weak, so we need strength.
But that's not what the Collect says. It's not what we prayed. It's not what we ought to seek. What we're praying for is weakness. It is in our weakness that we are strong. Not when we're strong. When we're strong we're weak. Paul says God's power is made perfect in weakness so that's what we pray in the Collect.
We pray for strength. We pray everything will be all right. We ask God to turn things favorably our way.
But we don't pray for weakness.
That's why we need the liturgy. The liturgy helps us pray for what we ought to pray. It guides us in praying in the way we ought to pray.
And so we pray for weakness.
Sunday School Starter
The Preschool and Kindergarten Sunday school class will learn about a "A Whirlwind Ascent," Elijah takes Elisha along as they travel from place to place. Along the way, they meet the sons of the prophets, who warn Elisha of Elijah's impending departure. Upon reaching the Jordan, Elijah parts the river with his cloak, allowing them to cross over. There, Elisha asks to receive a double measure of Elijah's spirit. Chariots and horses of fire appear, and God takes Elijah to heaven in a whirlwind. Gathering his master's cloak, Elisha continues the elder prophet's work. The students will continue memorizing the First Commandment.
First, Second, and Third Grade will will learn of "The Temple Testimonies," God fulfills His promise as Jesus is born in Bethlehem. Forty days later, in keeping with the law, the family travels to Jerusalem's temple for Mary's purification and Jesus' presentation. There, they encounter Simeon, a devout Jew whose song of praise lives on in the Church today. Likewise, Anna, the aging prophetess, rejoices at the coming of the Savior.
Catechesis with Pastor will explore Commandments 7 and 8 and the Divine Liturgy.